Authored By Brian
REDACTED The guilty parties have asked me to remove their names in order to not hamper their future racing efforts. I didn't write this in the first place to cause people grief. Everyone is entitled to a second chance.
A bit later, driver of the came down to our pits yelling and swearing demanding to see immediately about a supposed dive bomb pass at T8 that "literally almost killed" him. Our lead driver Dave McEntee and crew chief Tony Colicchio tried to calmly talk reason with him but he explained that it was his way or the hard way. The "hard way", he threatened, would involve him walking up and down the pit lane "making it very difficult to pass" for our car. We reported his behavior to race control and he was ordered to take a "time out". Very unprofessional and the lone example of poor sportsmanship we experienced at the track.
At this point, the Seattle Enduro Porsche 944 has been in and out of the back paddock and is currently several laps down on us. It's a little early to count them out but if things hold like they are, we're in a good position to turn up the boost and go for the win.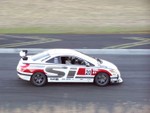 The big surprise are the two new Honda Civic Sis that are running P4 and P5 with fast laps of 2:02. Dave McEntee ran a fabulous early morning stint without the big rally lights after Csaba was brake checked and a light bump with the car in front of him broke the light pod. Running with boost, Dave was still nailing 2:04s without seeing apexes and exits.
We've have had a couple of fantastic pit stops this morning with a 3:37 stop a few minutes ago that included four tire change, driver change, refuel, oil top off and throttle pedal bump stop fix. Nice work!
We've got about 3 hours to go, we'll do a splash and dash, give the driver a drink and run it to the end. Everyone is on Red Bull and cookies. Checkered flag, here we come.