Authored By Brian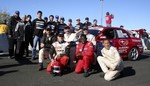 A completely amazing finish for a car that had never turned a wheel in a race, the ART / Easy Street / Car & Driver / JustRacing.com Subaru WRX STI has finished 3rd place in the ES class and 3rd place overall! It's now 8:40pm and I'm back in San Francisco. After the last update it was mostly wait-and-see. We had our aces Dave McEntee and Gary Sheehan piloting the car to the checkered and were closely monitoring the progress of the cars in 1st and 2nd place and 4th place. It didn't look like the 1st place Porsche, 10 laps ahead, was going to be reachable unless they suffered a mechanical issue in the closing hours. 2nd place SSF BMW M3 however was only a few laps ahead and we debated turning the boost up all the way and seeing what the car could really do.
In the end, we finished the race on wastegate boost control completing 659 laps. The first place Porsche completed about 667 laps and the 2nd place SSF BMW M3 completed about 662 laps. It was a close finish with both the Porsche and our cars serving 1 minute stop-and-go penalties for passing under yellow in the final hours. Gary Sheehan drove a monster 4 and 1/2 hour stint driving consistently quick times that kept us in touch with the SSF car and kept the 4th place car a healthy 7 laps down.
Although an uninmaginable amount of preparation has gone into this car by a number of top notch tuners and fabricators, we were granted great luck throughout the race that prevented would-be disasters from compromising our attack. In particular, the breakneck pace and steady concentration of Jaime Montesalvo from Easy Street Motorsports and Tony Colicchio from TC Design were key in keeping the car running strong.
For the last lap, the entire team went to the wall to cheer Gary as he swung the car close by and pumped his fists. An amazing accomplishment coordinated by Marshall Pruett and the longest a Subary WRX has ever run in a road race.
My feet hurt and it's time to sleep – 3rd place this year was a good warmup for 2006. See you there!