Authored By Brian
Today is my birthday. For the first time since 2001, I didn't feel the gloomy hangover of the NYC terrorist attacks. In some ways this makes me feel glad but at the same time I wonder if we're just back to being complacent (especially in light of our poor response to Hurricaine Katrina)?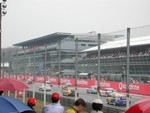 One year ago roughly, I was in Milan celebrating my birthday watching the Formula One race at Monza. This year I watched the Belgian Grand Prix at Spa on my Tivo from the comfort of my living room. I have to say I didn't miss standing in the rain like last year but I miss the non-stop rush of experiences that results from constant travel.
I ran into some college friends last Friday at a Bay Meadows birthday party and many of them commented they hadn't heard from me in a long while. I have flown under the radar since I returned from Europe last year and realized I haven't been very good about updating my friends and colleagues.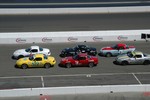 Well, I'm back! I'm doing some contract work as well as running my own little startup. I'm living in San Francisco again (in SOMA) and dating a girl named Jennifer. In my spare time I'm still learning Spanish and racing cars with the SCCA.
And you my friends, what are you up to? Why don't you leave me a comment?