Authored By Brian
Spanish people are indecisive. Luckily that doesn't get entirely in the way of a nice little trip, but it's a bit obnoxious. Aqui, aqui, aqui? No, alli. No, alli. No, alli.
"We're leaving at 8… to then drive around the city, pick up someone who isn't expecting us, and changing plans so instead of a 3 hour drive to Valencia, we're taking a 4 hour drive to Granada…" "how about this hostal? No this hostal? No this hostal?"
varios companeros
up from around the city. With everyone finally packed and on board, we drove the four-plus hours south towards the Mediterranean to the city of Granada. We arrived very late in Granada and it took us four tries to find lodging for the night. With two girls and three guys, we were able to find a combination of rooms at a small Hostal off the main plaza that worked for us at a bargain price. Money would prove to be a constant concern on the trip.
When we got up the next day (at the customary time of around 10am), our plan was to see a bit of the town and its most famous landmark, La Alhambra, a fortress built by the Moors. Because of the arabic influence, the architecture and execution is radically different than other historic Spanish landmarks. It's juxtaposed somewhat like the Jewish synagogue in Toledo: you don't really expect to find it there, but it's impressive.
Thankfully we started our venture with food and we wandered about some side streets until we found a bar that looked appealing. We did a standing lunch and munched on some big plates of tapas. It's incredible what you can eat for a couple of euros here. Of course, the first thing the Spaniards do when food is put on the table is douse it in olive oil (and often salt as well). This even includes the kiwi on the plate! Nothing like some fresh, healthy fruit… drenched in oil.

It was my turn to drive and we meanedered around the hills looking for parking. The group was adamant that we find free parking (which took almost an hour) instead of paying 5 euros to park in the lot. We eventually found a close spot near the bottom of the fortress and started hiking upwards. The compound is made up of three primary parts: La Alcazaba (the towers and actual fortress), the King's palace and living quarters and the Jardín de los Adarves (gardens). The original military pieces date back to the 8th or 9th century while the gardens were built much later. This is definitely the primary tourist attraction in the area and only 8000 tickets are sold each day. Although on our way out we found a paved road down the hill, we took a steep, dirt road up alongside a small stream.
We purchased our tickets and audio guides for the gardens and began our sightseeing there. The gardens are in stupendous shape and are meticulously maintained. As with the the rest of what we would see, the extensive inclusion of still and running water made each segment of the gardens a surprise. Some day when I design and build my own house, I plan to return here for additional inspiration.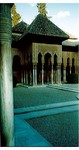 We then headed over into the palace and living quarters. The moorish architecture is simply amazing with its Islamic influence. I made a horrible mistake and left my digital camera memory card in Madrid so unfortunately I wasn't able to take pictures. The 3 I've included here are by Mariela. Let me pause and mention that she was the brainchild of our trip and it was incredible. I have visited castles in England and fortresses and palaces in France and Italy but La Alhambra is such a distinctly different type of place. Situated on top of the tallest hill in the region, the northernmost towers (Torres de Armas) have a great vantage point to look out and spot potential invaders.
We spent the better part of the day wandering through the compound. As sunset was approaching we ran through La Alcazaba in order to make it to the northernmost tower (there used to be 121 of them, but only a handful remain today). As we sprinted up the spiraling stone staircase and burst out onto the roof, we were treated to an incredible colored display as the sun dropped behind the Sierra Nevadas and out of view. We carefully negotiated our way back through the Alcazaba and found ourselves split into two groups. Mariela had disappeared and some gates were closed that prevented us from going out the way we came in. We walked all the way down the hill and luckily reconnected at the car.
Las Cuevas
(the caves) and walked back and forth along a narrow winding road in the pitch black darkness looking for a "good" flamenco bar. What we found was a small place with two rooms – the bar was up front and a room in the back with someone playing guitar and singing to a small crowd of listeners. We immediately got ourselves something to drink and made our way into get a seat and have a listen. The only other flamenco I have seen up until now was in Madrid where it included the traditional dancing with the singing. Here, it was a small group of what seemed like
really
drunk guys singing and clapping to the flamenco rythym. Some of the listeners were taking their turns at dancing but this mostly resulted in getting felt up and molested by one of the fat drunk guys doing the singing or guitar. Obviously, they didn't dance for long like that.
Despite the amateur nature of it all, it was a really awesome experience. The smoke was so thick in the air it caused nearly instant glaucoma and I had to step outside several times to let my eyes breathe. My eyes get tired very quickly in smokey rooms (surprising, since both my parents smoked as a kid). Luckily a combination of rum and cokes and occasional fresh air kept me mostly awake as we passed the time to midnight… 2… 3… 4am. The Spaniards and South Americans can party like nobody else.
There is no surfing in the Mediterranean – despite its size, there are no sizable waves in the sea!
This morning we got up and headed to Motril which is near Malaga on the coast about 45 minutes south of Granada. The plan was a little beach time to recover from last night. The beach in Motril is huge and deep. The water is a 10 minute walk across the sand. We all laid down and just enjoyed the sound of the waves lapping and the warm sun. It wasn't hot but the sun felt really nice on our not-enough-sleep-and-too-much-alcohol-consumed bodies. In fact, it felt too hot. The sun closer to the equator feels really hot and it feels like you're burning immediately. Thank my mom for making me paranoid about getting burned but after an hour or so I took a walk to find something to drink and see if they had any sunblock.
Most Europeans don't know what sunblock is. They have tanning lotion, which typically carries and SPF of around 2 or 4. The SPF 60 phenomenon in the United States is very domestic apparently. They do, however, have water. I got myself a huge bottle of cold water and a Spanish modern architecture magazine to read. Back to the beach and another hour or so of lounging about, we decided it was time to eat. I saw there was a restaurant just past the store I visited so we headed that direction.
On our way there, we witnessed a post-wedding celebration that featured fast sport motorcycles instead of limos or old fashioned cars. The groomsmen and their ladies on the back were rocketing up and down the street revving their motors like crazy. We passed most of the wedding party on our way into the restaurant.
After lunch, it was back in the car and on the way home. We were about 5 hours south of Madrid so I settled in for a long trip. The car was too small to comfortably sleep but Mariela and I both managed to get a little shuteye in the back. It came with a pretty stiff neck but there's nothing like the feeling of drifting off to sleep when you are exhausted.
I spent most of the weekend conversing primarily in Spanish and Claudio and Mariela were excellent at explaining what things meant when I didn't understand or answering my English queries. The Finnish girl with us didn't speak too much Spanish yet (she had just arrived in Spain a few days earlier) so she spoke mostly in English. She did teach us a little bit about her language though and, suffice to say, it's crazy. It makes learning Spanish seem like the easiest thing I'll ever do.
My Spanish grew by leaps and bounds as a result and that was one of my primary interests in going on the trip. To learn, you must immerse. Hopefully I will take more trips like this before I go.