Authored By Brian
Breakfast came quicker than I would have liked with Money giving us a brisk wake-up knock around 7am. I slept alright although I tossed and turned a good bit.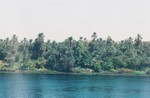 I left the top bunk ladder against the wall and it rattled until about 4am when I realized what it was and took it off its hook to enjoy (relative) silence. Reasonably comfortable, reasonably quick and very cheap means I'd give it another go. Overland travel is kind of fun; after we woke up we were treated to early morning views of life along the Nile. From the train we could see about a kilometer of greenery inland until the river lost its effect and the landscape returned to sand and rock.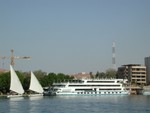 We met a representative from Abercrombie and Kent who took us to the boat for an early check-in. The road we took from train station to boat followed right along the banks and we were passing cruise boat after cruise boat. Most of these you would not let your sister on (the litmus test for all hygiene and safety standards). We were pleasantly surprised when we arrived at our boat, the Sun Boat IV which looked like the five times the boat it was billed. Our room is bigger than the one we had in Paris; this was already looking great.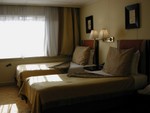 With a full day in Aswan, we decided we would try the street shops and bazaars, or souqs, as they call them here. We picked up a taxi outside and headed down to the Egyptian Bazaar. As with most cabbies, they are on the make to ferry you to a specific shop where they will receive commission. This guy is no different and we're whisked to the front door of "a good man with a good shop" and he says he will wait for us to take us back. Everything is good at this store, by the way. Our host explained that his shop was a "no hassle" shop and that he would let us look around and would not bother us. What followed was a non-stop show and tell of every product in every size and every potential use for every trinket that might be available. With all of the jewelry in the store, I felt this might be a good opportunity for Jennifer to score some quality goods at a decent price.
After selecting three small glass perfume bottles, a set of silver earrings and a plain 18k gold bracelet, the shop owner tallied up the prices. It was a mere 1780 Egyptian pounds. At 6.25:1, that's still $285 USD. Uh, cancel the gold bracelet please. With nearly zero bargaining, Jennifer walked out down about $50 USD.
We moved on but were immediately surrounded from both sides of the street and accosted with "Hello! Hello! No hassle shop! I give good prices!" It didn't matter if they were hawking spices, knick-knacks or jewelry – each store was the best according to their proprietor. I suspect our western dress looked as much like US dollars taped to our bodies as they did a pair of khakis and plaid shirt – the eyes were wide and excited as we passed each store. I made the mistake of shaking an outstretched hand at one point and found my hand firmly clasped and unable to continue my path. Doh.
A young Egyptian in traditional Galibyah dress picked up on us and wasn't immediately selling anything. The barrage of vendors was relentless and this guy offered to take us to the Nubian shops a few blocks away where he said fewer people would be. About two blocks away, our taxi driver suddenly shows up on the road and asks where we were going. This seemed a little strange at the time but we thought he might have been looking for additional fares.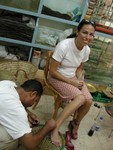 The Nubian bazaar was indeed quieter and in tow of our new friend, we found a store selling perfumes. Wham, bam, thank you ma'am, Jennifer is out another $50 USD. Next stop is a henna tattooist who is, of course, the town's best artist. Jennifer had a design on her right foot and I had a small scarab put on my arm. A few more spices into Jennifer's bag and boom, another $50 USD.
As we headed back to our taxi, our little friend declared that we should give him a present. We offered him 40 Egyptian pounds which seemed more than generous given he was getting a cut behind the scenes but he demanded 20 Euros or USD instead. Now, this is getting a little ridiculous. Fleece me once, shame on you. Fleece me twice, shame on me. We told him there was no way that was happening (as we didn't even have that much in USD or Euros) and sent him on his way with 10 euros. Still, that's roughly 80 Egyptian pounds.
I told one vendor our definition of hassle must be different
At the end of the day, I live an extremely fortunate life and being able to contribute something to these people is a rewarding fringe benefit of traveling to less wealthy countries. But nobody likes to be taken for a fool. I was upset that these people took us as an opportunity to play "screw the tourists". It has definitely left a sour taste in my mouth but I am most frustrated with my own inability to be firm with people trying to work me. I have a lot of respect for my former business partner Rob; he can be very forward and demanding in uncomfortable situations. A weakness of Americans is our adverseness to confrontation. People will go to great lengths to avoid discussing a matter directly or bringing up an unfriendly topic or bad news with one another. Where I've seen Rob be extremely frank with a street vendor or salesperson I would probably have acquiesced and complained much less loudly.
So much for "no hassel" shopping as the sign proclaimed… I told one vendor that our definitions of hassle must be different. Thankfully, this was the end of it because we were back on our fancy shmancy boat and ready to enjoy some upscale floating.
Last night was capped off by a Nubian performance troupe that sang, danced and played drums for about an hour after dinner.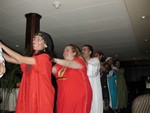 Nubia was once a country to the south of Egypt that is now southern Egypt and Sudan. The Nubian woman, in the center of the three male dancers, didn't do a whole lot more than twirl and swing her arms. The singing and dancing was very energetic and it was impressive that these guys had mastered basically an hour of dancing. It wasn't like watching the Laker Girls go through a routine, but rhythmic and could get you tapping your foot, or when they invited crowd participation, white people dancing badly.