Authored By Brian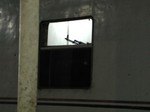 Somewhere in the Nile Valley, I'm sitting in the top bunk of a two-person overnight sleeper train en route from Cairo to Aswan. Jennifer is reading a book on the bunk below and we're somewhere about three hours outside of Cairo. We're scheduled to arrive at Luxor around 5:45am and into Aswan about 8am. At the train station, a representative from Abercrombie and Kent will be meeting us to take us to the ship and get us checked in and taken care of. Tomorrow is a free day in Aswan so we're planning to trust our Lonely Planet guide to see a few of the major sights. Jennifer read somewhere yesterday that Luxor holds 2/3rds of the worlds historical monuments and Aswan is supposed to be just as amazing. I'm looking forward to getting down to the nitty gritty of ancient Egyptian culture.
Yesterday afternoon we had a very late meal after getting up so late; Jennifer took a break to have a massage and pedicure downstairs while I wrote some notes about our trip so far and afterwards we went down to the hotel club "High Heels". This is one hip place – giant fans blowing lots of air around keeping it cool and free of mosquitoes, canvas sails tied overhead and low-slung couches that doubled as benches surrounding Asian-style low-height tables. They had great electronic music playing, a very friendly staff, and a pool just a few meters away. So what's the problem with this place? We were the only ones there. From what I've read, Cairo has a pretty bustling club and disco scene but the touristy (and mostly foreigner) Hilton was not going to be the center of it. We had a few Egyptian appetizers for a light dinner and a couple of cocktails before we went outside to stroll along the Nile.
…crossing one lane at a time, pausing, and Frogger-style, choosing when to cross the next [lane]
We crossed the "July 26th" bridge just south of the Hilton and walked to a roundabout on the west side of the river. The pedestrian corniche was already closed because it was past 11pm so we decided to cross the traffic and sit in the middle of the roundabout. I learned an important strategy by watching the locals here… hoping to cross all the lanes at once was futile. Getting across in a timely fashion requires crossing one lane at a time, pausing, and Frogger-style, choosing when to cross the next. Invariably horns will blare but short of one horse-drawn carriage playing chicken with a taxi, I didn't see any near accidents.
We sat at the roundabout for around a half-hour and just watched late-night Cairo life go by. Families were out with their children at nearly midnight and from the traffic you would have guessed it was rush hour. The occasional SUV, Mercedes or BMW would drive by reminding us of the vast difference between wealthy and poor here. We even saw someone with a shiny Hummer H2. It wasn't glam yellow though, so I suspect it might see some dirt (beyond the grime that covers everything here). I watched one 80cc scooter carry a family of five – these people are resourceful.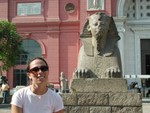 I am feeling a little bit guilty because although Jennifer dressed quite conservatively today (jeans and a loose top), the men here are still eyeing her up and down without reservation. There is something of a funny game where they look at her, then look at me looking at them and then quickly turn away. No one has made a comment, at least not in English, and I don't get the impression that anyone is anything more than curious at the sight of a foreigner who isn't wearing a long black robe or a headdress. Jennifer is one of the only females older than 12 who have their hair visible. I know that I look twice in the states when I see something out of the ordinary and I suspect this is just the same. It's such a good experience, in my opinion, to be on the receiving end of sticking out. This is what people deal with every day all around the world and a few (easy) steps in their shoes will stay with me a lifetime. I've been a lucky white kid for a long time.
Today we woke up fairly early and cemented our cruise plans via a call and email to Noha at A&K. We signed up for the King Tut tomb tour in the Valley of the Kings and a light and sound show at the Karnak Temple. The latter is probably on the cheesy side but seeing the site lit up at night sounded appealing.
The Nile Hilton is definitely a great facility but the buffet available for breakfast is simply out of this world. I've never seen such a variety of foods from so many cultures available simultaneously at one buffet. The fruit was fresh, the food was hot and it was oh so tasty. They had ample sweets as well to finish off a proper breakfast.
I have never even seen a manual on the column outside of a classic car show
We checked about making reservations for this sleeper train but found you must purchase them in person at the Ramses train station. We walked out front and found a taxi who would take us there and bring us back so off we went. The taxis here are a trip – not only because they are navigating the ebbing and flowing traffic – but because they're all mid-70's Peugeot's with 4 speeds on the column. I have never even seen a manual with the gear shift on the column outside of a classic car show. My only knowledge of them is the description my dad has given me of his first cars. But every taxi here is a three or four speed on the column. The taxi drivers all have seat belts, which they wear, but none of the passenger seats do. You can identify them from the black and white alternating paint jobs they use although I have yet to discern a real strategy to the pattern.
The only real surprise of this was that we could only purchase these tickets in USD, GBP or Euros. Egyptian Pounds were not accepted! I'm not sure how Egyptians buy tickets. Between those three currencies, we had nearly enough but we figured that trying to add up three currencies would have been a nightmare so we set out to find a bank. Our taxi driver, waiting for us in the parking lot, suggested we try a travel agency across the street first. This turned out to be great luck because we ran into Hamis Travel, recommended by Lonely Planet. A very nice Dutch woman who has lived in Cairo for 40 years helped us while we sat in their air-conditioned office and they even let us pay with a credit card for a small surcharge. Tickets in hand, the taxi took us back to the Hilton so we could visit the Egyptian Museum located directly next door.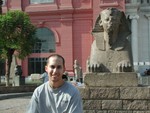 I can't even write about the Egyptian Museum. It's just too overwhelming. It has more sarcophaguses and mummies and ancient historical treasures than you would ever know what to do with. It also holds the treasures of King Tut's tomb along with his famous burial mask and most of the things buried with him found in his tomb. For being a little kid, he sure knew how to go out like a star.
The museum is two floors, not air conditioned (except for the Royal Mummies room and the King Tut chamber), poorly laid out and organized and is too much to decipher. We only planned to check out one floor (the upper floor) in the four hours we had available so we did mostly the highlights.
Although the Royal Mummies room, containing Seti, Antohep and a few other class A pharaohs was interesting, the mask of King Tut was a little bit like seeing the David for the first time. It's something you're so familiar with yet can't really be prepared for seeing in person. Although the Tut room is fairly small and the mask is prominently displayed, I didn't see the mask for the first five minutes I was in the room. I turned and looked up and, under the light, saw the solid gold gleaming and it sent a chill down my spine. It's every bit as intricate as it looks in the pictures and it has this aura about it. It represents ancient Egypt, massive wealth, great power and incredible faith. But it also represents treasure hunting, archaeology and a really great adventure in uncovering such an amazing find. It is awe-inspiring and it's only child-sized!
When we could no longer take the heat, we broke free of the crowds and came back to the Hilton to eat another late lunch and then prep to leave for the train station. The hotel let us go back into our room after we ate (around 5pm!) to hang out until it was time to leave. We grabbed a taxi around 6:45 and caught our train with no problems. Our steward, whose name is Money, (he says, "you can't forget it – because it's money!") has been hilarious. As we boarded, he asked if we were from the States and when I confirmed, he said "Clinnnnnnn-ton!" I didn't know what that had to do with the price of rice in China, but the way he said it was funny. He's been cracking jokes all night making our stay just a little bit better. I'm sure he's looking for a nice tip which he surely deserves for making us feel welcome.
Our cabin is small but comfortable. It has two fold out bunk beds and a little sink to wash up in. Not a ton of room for luggage but it's fine for an overnight ride. It's about quarter to midnight now so I'm going to wrap this up and get some sleep. If it's really going to be 100 tomorrow, I'll need some rest to prepare.