Authored By Brian
On our way back from the bike tour, Jennifer and I took the metro to what we thought was the closest station to our hotel, Monteparte. This was a major connection with multiple lines and the station was a labyrinth of stairs, escalators and long, winding corridors. What made it creepy was the complete and total lack of other people in the place. We passed a couple of guys with Zamboni-like floor cleaning machines but we literally couldn't find a way out of the station and the late-night help only spoke French. One janitor understood my hand signals and tried pointing us in the right direction but imagine getting a couple of hand signals as instruction for disassembling a nuclear bomb. Not so helpful, eh?
We walked down every corridor, checked parking lots, pressed on every door, nothing was open. And there was no one to ask how to get out. We must have spent nearly an hour feeling horror-movie creeped out, just waiting for some chainsaw-wielding serial killer to pop out and give chase.
There was one floor at ground level with floor-to-ceiling glass doors and windows but everything was locked. I even tried pulling doors apart but there was no budging them.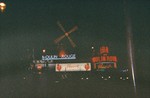 It wasn't until by accident I walked up to what I thought was a window that it opened and we got out! There wasn't a damn sign in the place indicating that it was a door. A quick taxi ride and we were back at our hotel… but look what was right down the street!
In retrospect, I've noticed that there are very rarely escalators and never any elevators. I don't know how disabled people would use the European metros. I guess the American Disability Act hasn't sued everyone into submission yet. :p
The next day we started trying to figure out what we were going to do with the rest of our time together. Was it going to be Turkey or Egypt after we go to Athens for the Olympics? I decided that I would do some research and pick up a Lonely Planet guide or two. After browsing the bookstores in England the week prior with no inventory issues, we realized one small problem… where do you buy Lonely Planet in English?
Our concierge had recommended WH Smith Books near the Louvre as a store that sold English-language books. Jennifer was feeling sick so I let her take a nap and I walked back up to Moulin Rouge to grab the metro. Mission accomplished… I brought back a Top 10 guide to Athens and a book on Egypt.
For our last night in France, we headed out for an interesting looking restaurant we passed on our bike tour. It's pretty difficult to find a restaurant that isn't a tourist trap and try as we might to find our needle in a haystack, we finally succumbed to hunger and picked perhaps the most conspicuous place on the street. Our waiter recommended without hestitation the most expensive steak on the menu which we laughingly ordered. As soon as our menus were taken, we looked left and right to see every other table had the same special on their plates… oh billy.
Maybe not the best dinner, but the night did end on a high note with a street vendor crepe. I had a banana and nutella crepe at 9pm tonight and it was f-a-n-t-a-s-t-i-c! The guy used a cool little stick to perfectly smooth out the egg onto the cooking surface. Hot and chocolatey with banana! I remember my mom reminiscing about these crepes years ago as a kid and I understand how they could leave such a permanent impression.
Tomorrow we head to the airport to fly to Santorini for a couple days in the Greek islands to relax. I've now been to all of the countries of my heritage with the exception of Greece. I can't wait to swim in the Mediterranean and see Athens!