Authored By Brian
Not that it's very England or London specific, but our hotel was just down the street from a collectible store called the Forbidden Planet. If it's geeky and sci-fi, it's in this store. You can buy anything from posters to action figures (or dolls, as they really are) to a "real" light sabre. Real in that it's heavy, made of metal and costs 300 quid; "real" in that it's almost $600 USD and can't cut off anyone's hand. Somehow London has rented not one but two floors for storing all of this unbelievable, MUST-HAVE-NOW collectibles.
Last night was our last in London. We left for Paris via Eurostar today. Jennifer and I walked down into a theatre district of sorts to eat at a Thai restaurant her boss and she had eaten at on a prior visit. It was easily one of the best meals, thai or not, that I've had. It could be the combination of crappy tourist food we've been eating, but it sure hit the spot with just the right amount of spice.
It was still warm after dinner so we walked around to a square with a big statue or two in the middle. There were foreign kids hanging around, mostly young Americans, celebrating the last night of their journeys with some, uhm, libations. We ended the night with an ice cream cone and headed back. We had to be at Eurostar around 6am which meant it would be an early morning.
I almost forgot about going out for drinks with Jennifer's co-workers and heading to the suburbs to have dinner with Jennifer's English financial counterpart Bill and his girlfriend Sarah. We took the train out to their hood and had a drink at their flat. They live together and bought a place that is small but very cute. It has bookshelves up the walls which gives a place such a warm feeling. We were introduced to their fat cat in the back yard before heading out to grab a bite.
Like a lot of San Francisco neighborhoods, theirs had a "main street" with a lot of popular restaurants and pubs and we ate at a place that had a wierd combination of foods including a sort of jerk-Jamaican chicken and a lamb burger. It's not every day you have lamb in burger form so I gave it a shot. All I can say is, "baa-ah-ah-ah-ah"! After dinner we went up to a sort of event center on the top of the hill. It's a bar but they also have concerts and other shows there too. From there, we could see over the London skyline and see downtown, the north and westerly ends of the city. It was just getting dark so we went inside and had a couple of beers before we called it a night. I had met Bill and Sarah in San Francisco; Bill had been working in the States for about 6 months and is a really solid guy. They're both very nice and were gracious hosts. Once at the train station with four beers in me I needed to use a bathroom. A pub opposite the station had its doors open so we crossed the street and found a few, but dedicated football fans watching a match. There weren't enough people to blend in and use the bathroom so I ordered a pint to keep the bartender happy. After "casually" watching 15 minutes of soccer, it was time to board the underground and get back to the West End.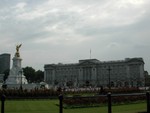 Something I forgot about our ride on the double-decker was getting off at Buckingham Palace to walk around. There were some kids playing in the Queen's fountain which, no doubt if the guards were allowed to move, would have been struck down in quick fashion. We were a little too late to get in on a palace tour so we opted to instead walk through the parks. We were about a week too early to see the dedicated fountain for Princess Diana so instead we went to the big lake and just laid down to rest our feet for a few minutes.
Our last adventure for the day was visiting Harrod's and ogling their food court. I call it a food court because that's the closest analogy I can think of in America but it's more like a food showcase. Just about anything and everything edible is available and on fancy display in Harrod's on the ground floor. I bought some Earl Grey tea for my English grandmother and some chocolates (which I would carry with me through France, Greece and Egypt before ultimately mailing them from Spain…

). It was close to closing time so we hurried upstairs to take a look at their Christmas collection (note, this was in August) and then into the sports section where they had an incredible collection of Formula One paraphanaelia and clothing. A quick tour of the toys section (including some incredible Legos) and we were ushered out by security.