Authored By Brian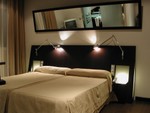 Last Saturday, I checked out of my hiding place at the High Tech Arenal hotel (which, had the best shower I've experienced yet) and hopped the metro to Barajas to catch my EasyJet flight to London Luton. I was en route to meet up with Jennifer who was in England working for Ask Jeeves. Jennifer and I have been dating for the past months although I've been hesitant to get too serious because of my trip and its undetermined length. We always have a lot of fun together and this week has been just what I needed after dealing with my room situation. After an easy train ride from the airport, we met up at the Radisson Mountblatten in Covent Garden. Jennifer mostly caught up on sleep from her red eye and I did a little work.
I was in England once before when I was about 8 or 9 years old. I remember a few things like the Crown Jewels, Tower Bridge and the store with the life-size Lego sculptures but the details are fuzzy. I've been looking forward to a brief respite from the foreign languages and just having some easy days tooling around London enjoying the hip people and the good food.
First, Sunday was sightseeing time. We started with one of the hop-on and hop-off double decker buses to get a bird's eye view and some easy transportation around London.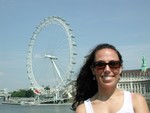 Although it seems overly touristy, these buses are valuable in that they show you a little of everything and give you some background so it all comes together. We started out at Knight's Crossing and saw where the great fire started, the Tower Bridge, Royal Castle, London Eye, Big Ben and Parliament, Westminster Abbey, Buckingham Palace and ended our day with a nice stroll through St. James and Hyde Parks. The weather was incredibly warm by English standards with most people showing all of their pasty white skin in an effort to stay cool. After coming from 33-35 degree temperature in Rome and Madrid, the sunny 27 was a welcome relief.
Jennifer has worked during the days so I have been doing the same with Pukka. It's been a mixture of light rain and sun (sometimes only a few minutes between the two). Each night we've been going out to wander around, do a little shopping and try some different restaurants.
The West End, of which Covent Garden and Leicester Square (pronounced "Lester") are part, is a very commercialized and shopping oriented section of London. Each block will invariably contain the following shops and restaurants:
• McDonald's
• Angus Steak House
• Café Nero
• Starbucks
• Bella Italia
• Pizza Hut
No one plans to eat at these places until they wear you down through persistence and you simply give in. And persistence is required; our meal at the Angus Steak House was anything but spectacular. Thankfully each meal has improved since then and we've had some absolutely fantastic Italian, French and English food. As simple as it sounds, one of the most welcome changes has been salads that include dressing. Hallelujah! Dressing!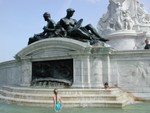 I'm currently sitting in a Laundromat washing all of my clothes in preparation for our departure. Tomorrow morning we hop a Eurostar at 5:30am to Paris for the weekend. We are eventually headed to Athens for the Olympics but are going to first stopover in Santorini, one of the Greek islands, for scenic beach time and some R&R. The cheapest flight we could find was from Paris so we're making a weekend of it. I've only been through the Paris airport a couple of times and never seen the city. I'm not overly excited about France in general but if I never saw the Eiffel Tower and Louvre, I'd feel like I missed out a bit.
Looks like I just ruined my new pair of khakis. Damn I hate laundry. I didn't dry them all the way so I could air-dry them and not have them shrink. I sat them down on my bag and the dye in the bag went onto the pants and left a big black mark.
1.3 USD = 1 Euro
1.5 Euro = 1 GBP
1 USD = Not much
I'd rush right out and buy a new pair except that, like the title suggests, everything here is the same but a little different. That refers mostly to the cost of everything. Restaurant food is roughly the same price as in the states; clothing is roughly the same price; the hotel is about the same price too. However, the price is in Pounds. That's roughly 1.9x the cost of US dollars and 1.5x the Euro. Suddenly those 125£ sunglasses don't seem like such a bargain. I didn't think I'd be excited to be back to the Euro again but I'm looking forward to France and Greece! My vacation isn't going to last long if I spend much time in London.