Authored By Brian
Innsbruck was our stopping point between our mid-day departure in Berlin and our next destination of Brescia in northern Italy on the shores Lago di Garda. Driving through the Alps was incredibly beautiful; the mixture of rugged, steep mountainside and dark green mountain plateaus was breathtaking. Houses and castles were mixed among the peaks and open areas and grassy ski runs covered the majority of mountains. The sky is ridiculously blue and smal puffy clouds float just overhead as if surprised the ground is so close to their normal altitude.
Innsbruck, Austria
The Alps rocket almost straight up from the town which sits along a fast-moving river (borrowed pic)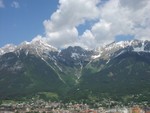 Halfway through this incredible landscape you arrive at Innsbruck which is in my mind embodies Austria. I could complete the mental picture if Arnold Schwarzanegger were greeting us as we entered the town. Innsbruck is settled mostly on the banks of a large river that runs in a valley between peaks. The river, even at this time of year, was a murky white from the sediment kicked up by the fast current despite no snow in sight. Similar to the rest of the alp countryside, there were houses nestled high above the town looking down at the river and town. It was unfortunate that we only spent the night and morning as I would have liked to explore the town further. In retrospect, it's probably better to return in the winter and sample the snowboarding. At such a high altitude, the snow there should be great.
We had breakfast at a restaurant next to our hotel which was on the mountain-side of the river and then crossed the bridge so we could walk around the downtown and see some sights. The city was impeccably clean and the shops all had a very modern look to them. It was early on a weekend morning so almost everything was closed and there were relatively few people out. The streets are not on a grid and navigating our way around and back was a bit tricky. The moutain air was so fresh but even at the altitude, I don't remember feeling short of breath.
Novembar Innsbruck
Universitätsstrasse 1
Innsbruck, Tirol A-6020 AT
(they have wi-fi here)
One note for the traveler – there is a very hip bar downtown called Novembar Stadt that overlooks a monument and fountain close to the river. The waiter told us that it is packed with travelers and a good place to do the meet and greet while on the road.