Authored By Brian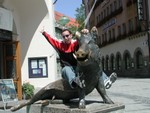 I'm a BMW brand loyalist and I love beer so I was excited about visiting the Bavarian capital of Germany in Munich. The weather was a bit gray during our stay but we only pulled out our umbrellas once or twice in the three days we were there. It's not easily recognizable but there is something a little odd about Berlin and Munich. During WWII, both Berlin and Munich were bombed mercilessly by Allied troops and it gives both cities a very young feel; rarely do you see a building older than 60 years. It's not immediately recognizable until you step foot into Italy and rarely see a building built in last century.
Back to BMWs and Beer. It isn't Oktoberfest yet so the place to go for an ole-fashioned bierhaus experience is the Hofbrauhaus.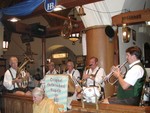 Complete with live Polka bands and women who can carry six pints in each hand, this is where people come to drink and eat. The atmosphere is family-style with the long wooden tables and benches carved with years of visitors' initials and names. The food is nothing to write home about, but the beer comes very cold and very fresh. We only stayed until about 8pm but if I had one night to stay out – it looked like a good bet.
This picture is of a BMW M3 Evo III campaigned in the German DTM series in 1991 hosted at the Mobile Tradition BMW Museum in the Olympic Park. Driven by Roberto Ravalgia, it is one of the best examples of the most winning touring cars in history.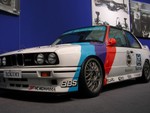 The Evo III used a 4-cylinder motor derived from BMW's Formula 1 program that could run as fast as 10,000 RPM and put out upwards of 400HP from 2.5 liters of displacement. I wanted to see it because it's built from the same car that I raced last year. Without millions of dollars and factory backing, mine only ran to 8,000 RPM and put out 180HP or so but it was still plenty of fun. The museum is currently in a temporary facility with only a few cars while BMW is building a new facility for their large collection. Although they originally built airplane motors (the blue and white BMW logo, or "roundel", is actually a representation of a propeller blade against a blue sky), BMW has built cars back to the beginning of the 20th century so they have plenty of vehicles to store and show.