Authored By Brian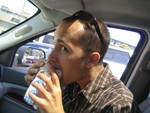 It's been just over 30 days since we said adios to Costa Rica and hopped a plane back to San Francisco. It has felt great to be home and see family and friends. Jennifer was so happy to be back she even thought the airport people in Atlanta were friendly!

There is a bit of awkwardness in returning from such a monumental experience. People invariably ask, "How was it?" The answer is either "great" or it's a 4-hour conversation about the amazing things we saw, the wonderful people we met and the great food we ate. We try not to be those people who go on and on and on about it so if you really want to know the dirty details, please ask!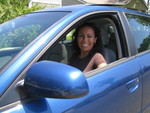 In the last 30 days we've eaten plenty of Mexican food, spent time in Vacaville and Redding with our families and moved into a summer sublet in Berkeley while Jennifer searches for a job. We're living close to the University between Shattuck and Telegraph in a cool neighborhood near cool restaurants and stores. The weather over here is bloody incredible after living in San Francisco for six years. It's warm and sunny every day. Jennifer bought a 2007 Audi A3 and I picked up a Ducati Monster for getting around.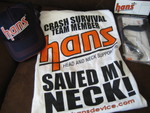 It didn't take long for me to get to a racetrack but unfortunately I was riding shotgun and crashed head-on into a wall. I was wearing full safety equipment including my HANS device and although we were going 55mph at impact, I experienced only a tiny amount of neck stiffness the next day.
For those keeping score: we have an apartment, a car, a motorcycle, I've been working on MotorsportReg.com and Jennifer is looking for a job. We've already been to a wedding, a graduation and a birthday party. It's like we never left!
That's the beauty of picking up and leaving… you can pop back in and reintegrate in a split second. The only catch is life can seem relatively boring. After spending 200 consecutive days experiencing new things, it's easy to get bored with leftovers and errands.
Now speaking of boredom, where exactly did that Africa guide book go…?