Authored By Brian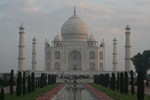 I landed in Agra at about 5:30am after barely sleeping a wink. Six hours of swerving to overtake slower traffic or avoid potholes was not very conducive to resting. Regardless, I was here to see the Taj and I wanted to see it at sunrise.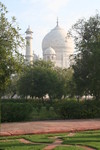 Half-awake, I was ushered by a tout into a tuk-tuk to Taj Ganj which is the bit of town that backs directly up against the Taj Mahal. It's a bit like the Pyramids in Egypt which, looking one direction appear to be in the middle of the desert. Looking the other, they appear to be part of a downtown urban development project. He of course recommended his hotel where he received commission and I was willing to give it a look but it was a dump and I carried on to my choice from the guide book. My place was clean and didn't pay commissions which made me feel warm and fuzzy inside. I dropped my bags and rushed into the Taj Mahal compound to see the first pinkish lights of dawn hitting the world's biggest monument dedicated to love. The Shah built the Taj Mahal as a mausoleum for his wife who died giving birth.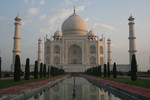 The pictures can't really do it justice… maybe due to my insane travel plans and lack of sleep I was overly emotional but I swear I felt a chill on my spine and my eyes welled up when I got my first real look at it in the morning light. Although the pictures always show a tightly cropped shot of the mausoleum, it's set among a beautiful set of carefully groomed gardens with auxiliary temples, surrounded by a fortified wall and backed up against a river. All together it forms a breathtaking sight that rightfully deserves it's "wonder of the world" status.
Just take a look at the series of pictures… what's amazing is how it looks different as the sun rises. Every 5 minutes it looks like a totally new monument. I think some of this effect is lost in the pictures but I was fully satisfied with the $18 fee to get in.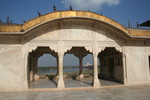 I also visited the Agra Fort, another Mughal fort like the Red Fort in Delhi but more interesting and less "developed" internally with shops. The Shah who built the Taj was imprisoned in this fort by his son Augenezeb for 10 years. Every day he could look out of his prison at the Taj and think of his wife.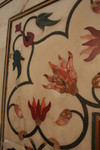 Invariably, I wound up at a marble shop a bit later where they were trying to sell me large, hand in-laid marble settings for a couple hundred bucks. It always feels like you're getting screwed by I bargained down to about half the original price for a set of marble coasters. The marble work is done with the same technique as the Taj Mahal and is an Agra specialty. I am learning to use my car shopping experience to my advantage here to turn the tables: visit at the end of the day, say you have limited time and then lowball as you walk out the door. Even if they ultimately say no, you can use that pricing for the next shop you visit.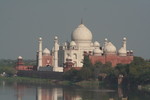 For all of the frustration of traveling (which I think is seriously compounded by being solo here; in a couple or group you have far more good cop/bad cop leverage), seeing something as beautiful and famous as the Taj Mahal in person makes it all worthwhile. I think that's the key to India: the contradiction and companionship of maddening and breathtaking.