Authored By Jennifer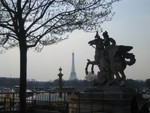 After a week in Bali I headed to Paris, France to take in the sites. I have been to Paris twice before, but both were weekend trips. However, I fell in love with the city. I really think it's the most beautiful city in the world (at the least the part of the world I've seen). There is no picture that does justice to the experience of seeing the Eiffel Tower in person. I had already seen the major sites on my previous trips, the Eiffel Tower, Arc de Triupmh, Notre Dame, Louvre, the Seine and so forth. On this trip, I wanted to spend a little more time than a weekend and check out all those wonderful spots that I didn't have time for before.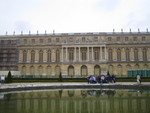 First on my list was a trip to the Palace of Versailles. The morning started out cold, but the sun was out. After a tour of the main palace, which was very impressive but undergoing major renovations, I headed out to the gardens which was the real reason I went to Versailles. As soon as I went outside, it started to drizzle. At first it wasn't so bad and made my way through the gardens trying to keep a positive outlook.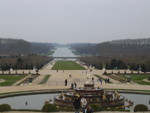 I grabbed a hot chocolate to keep me warm, but that just wasn't enough. After about an hour and a half of wandering around I was freezing cold, my pants were soaked, and my toes and fingers were numb. The last 3 months of 90 plus weather had not prepared me for the current 40 degree temperature. Not to mention I did not have the proper clothes to begin with. I visited two smaller palaces at the other end of the gardens and was determined to make my way through Marie Antoinette's gardens.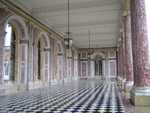 Quiana and I saw the movie before I left on our trip and I really wanted to see these gardens. But my body just couldn't handle it and I was forced to retreat. I tried to hop a ride on the train back to the main palace, but I apparently had the wrong ticket. Instead I walked as fast as I could back to the main palace and then on to the metro station to the center of Paris. My first stop in Paris was at the mall to buy a rain jacket, scarf and warmer pants.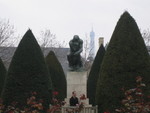 It remained cold and wet for a few more days, so I toured a couple of museums, both the Rodin musem and the D'Orsay. It's almost unreal to see in person the same art I studied in art history class in college. I also headed out to a photo exhibit at the Hotel de Sully, but the hotel was closed for a film crew. On my way back to the metro station I stumbled upon a street lined with food stores, there were patisseries (pastry shops), boulangeries (bakeries), chocolate ateliers, fromageries (cheese stores), boucheries (butchers) and even a couple of wine shops and foie gras shops. I was in heaven! All those French terms I learned in cooking school came alive before my eyes.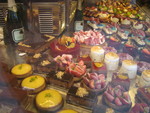 I have to admit, they looked 100 times better than anything we made at school. Especially the patisseries. I wished that Brian was with me so we could go on a mini shopping spree and share all our goodies. But with just my own stomach to fill, I only walked away with some dark chocolate Easter chicks and bunnies filled with caramel ganache. They were absolutely delicious! I ate half of them right there on the spot, and the other half for breakfast the next morning. Speaking of food, I also went to an open-air market at the Bastille one morning to check out the local produce. The farmer's market at the Ferry Building in San Francisco is wonderful and I love it, but it just doesn't compare to a French open-air market. The French have been doing this a lot longer than we have, and it shows. They have everything from fruits and vegetables, to meats, sausages, and pates with the butchers right there on the spot, to seafood that I've never even seen before in San Francisco. And of course they have plenty of home made bread, pastries and cheese. But it wasn't just that they had a lot of stuff, but it was arranged so wonderfully. I'm at a loss for words on how to explain it but the simple displays just make everything beautiful. The thing I was impressed with the most was the paella stand. A guy was making a couple of differnt types of paella on those huge paella pans and it smelled delicious. Unfortunately I'd already had a pain aux chocolate and a raspberry donut and couldn't fit anymore in my stomach.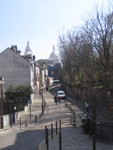 After a couple of days of rain, the sun came out. It was still pretty cold outside, but the sunshine made a big difference. With the Lonely Planet Paris guide in hand, I went on a walking tour through the Montmarte area. Montmarte is full of small cobblestone streets winding up through the hills to Sacre Couer. If you ever saw the movie Amelie, this is where it takes place. It was a beautiful walk and the view from Sacre Couer is amazing.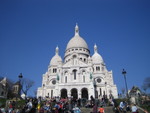 I toured the church and was shocked at how dumb some people are. There are rules posted in several languages about how you should conduct yourself in church. There are even members of the church watching the tourists to make sure people don't step out of line. Regardless, some people just act foolish and it really takes away from the whole experience. The church is huge and beautiful inside, but not quite as impressive as Notre Dame. I think the view over Paris from the front steps is what makes Sacre Couer special.
I was also really looking forward to visiting the gardens spread throughout Paris. I strolled through both the Jardin des Tuiliereis right outside the Louvre, and the Jardin du Luxemborg.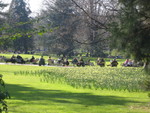 Since it's not quite Spring in Paris, a lot of the flowers hadn't been planted, and the trees had no leaves. But a lot of the bulbs were in bloom, and the grass was green. Parisians really know how to enjoy a nice day in the park. Even in the middle of the day, the gardens are full of people. Everyone from mothers with babies in strollers, older people enjoying a game of bocce ball, young people reading books, and tourists like me amazed at the beauty of the gardens.
I stayed in Paris for about a week and at the end of each night I was exhausted and my feet were aching. It's funny, but I saw a lot more things alone than Brian and I normally do together. He's not a huge fan of Paris, but I know we would have had fun together. And of course being one of the most romantic cities in the world, I definitely wished he was there with me. I enjoy traveling alone, but I was getting lonesome. My plan was to head to Florence for 4 or 5 days before meeting Brian in Rome, but my friends Kasja and Martin invited me to visit them in Sweden instead, and I jumped at the chance.