Authored By Jennifer
Really the only reason we wanted to go to Cambodia was to see Angkor Wat. It's sort of like the pyramids in Egypt, you have to see it to believe it. And they shot parts of Tomb Raider there so how could we pass it up?
After a short ride through the countryside, we arrived in Siem Reap, the gateway to Angkor Wat. Jim, the owner of the guesthouse where we stayed in PP, gave us an outline of what to see in the three days we were spending in Siem Reap. Of course we left that in PP, so we had to go by memory.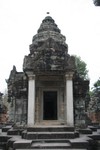 We managed to remember that he recommended we visit Wat Damnak for sunset on the first night we arrived. We hired a tuk-tuk from our soon to be best mate Sitha, and headed just south of town to the ancient temple. At the temple, we noticed a couple of guys sitting outside on the steps. Of course we avoided them because we knew they'd either try to charge us to see the temple, or try to be our "guide" and expect a tip in return. We cruised around to the back side of the temple and went inside.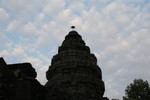 This was our first time seeing ancient Angkor architecture, so we didn't know what we were looking at. But it was old, it was cool, and no one else was there. Eventually the two guys sitting outside the temple caught up to us. And sure enough they wanted to be our guides. We tried to ignore them, but one of them starting speaking to me in Spanish. This piqued my interest because we haven't heard Spanish since we left San Francisco, and I couldn't believe this local Cambodian could speak it. Turns out him and his friend worked for the Buddhist monks who lived in the adjoining village. They cooked and cleaned for them in exchange for schooling and room and board (we later learned that many poor families send their sons to live with the monks because they can't afford to take care of them). The guy who was speaking Spanish to me had been taking lessons for the last month. Brian is a much better speaker than I am, so he spoke a lot with the guy. He was so happy to have someone to practice with. The other Cambodian was learning English, but had picked up a few Spanish words. The two of them showed us around, and then took us into the temple the monks currently use, which housed a large Buddha. They explained a few things and introduced us to some little boys who really didn't know English but kept calling each other "crazy." It was pretty funny. As we ended our tour, of course the guys asked for money, but in Spanish. I was feeling pretty generous that day and gave them $10 which would pay for 2 months worth of English lessons. They had me at "I work for the monks."
The next morning we woke up at 5 am so that we could meet our guide and Sitha at 5:30 to see the sunrise at Angkor Wat. Sitha argued that 5:30 was too early, but we couldn't call our guide to change the plans, so we stuck with a 5:30 departure. Sitha, Brian and I were all awake and ready to go at 5:30. We waited and waited and waited, and the guide never showed up. We were a little upset, but left to tackle the temples on our own. It was quite dark and there weren't a lot of street lights on the road to Angkor Wat. And although there were very few cars on the road at this hour, somehow we managed to be involved in a minor collision with a truck. I should mention that before he became a tuk-tuk driver, Sitha was a school teacher. He didn't make enough as a teacher so he took up the tuk-tuk. Although we really, really like Sitha, he probably should have remained a teacher.
Angkor Wat is actually just one temple amongst many. The temple ruins in the area of Siem Reap are the remnants of Angkorian capitals and represent the pinnacle of the ancient Khmer architecture, art and civilization. At its height, the Age of Angkor was a time when the capital area contained more than a million people, Khmer kings built vast waterworks and temples, and the Khmer Empire included most of modern-day Cambodia, Laos, Vietnam and Thailand. It's much like the old Mayan and Inca civilizations that we are a little more familiar with.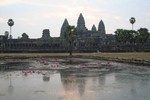 We went to the actual Angkor Wat temple for the sunrise. It is the centerpiece of the temple complexes and the one that is seen in all of the photos and movies. It was built in the mid 12th century and served as a massive temple mountain dedicated to the Hindu god Vishnu.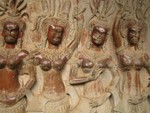 The entire temple area is 1 square kilometer and the structure has five lotus-like towers rising 180 feet high. We found a spot on along one of the stone gates into the structure and waited for the sun to rise. There were hundreds and hundreds of people there. The sun finally rose, and it wasn't quite as dramatic as it could have been, but we still enjoyed it. After the sunrise, we explored the temple.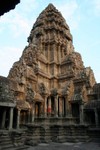 The temple is covered in bas reliefs depicting Hindu stories and mythology, as well as thousands of Apsara carvings. We climbed very high, very steep stairs to get to the very top and have a look around. The views are amazing. Even though we didn't understand the significance of everything we were looking at, we knew it was something special. You really have to see it to believe it.
On our walk back to Sitha's tuk-tuk, we ran into some more monkeys. Brian thought it would be fun to feed them.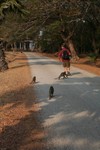 As he pulled out some of his bread from breakfast, more and more monkeys surrounded him and suddenly they were chasing him down the road. It was hilarious!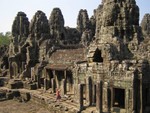 Bayon was the next temple we visited. It was built in the late 12th century and is a Buddhist temple rather than a Hindu temple.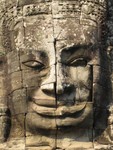 The remarkable part of Bayon is the 37 standing towers that sport four carved faces. These are also a familiar landmark of temple complex. By the time we got to Bayon, the tourists were out in force, so it was quite crowded.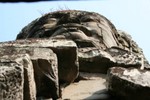 We didn't spend too much time there, but we got plenty of pictures of the magical faces. We also met a little girl inside who was probably 5 or 6 years old. She didn't speak any English, but she was adorable. I gave her a small bracelet and she pointed me down the hall and said, "Buddha!" It was so cute.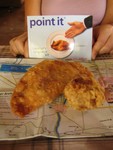 We decided to take a break because it was getting really hot and we were tired. We found Sitha and sat down at a small outdoor restaurant for some cold drinks and some delicious Cambodian pork empanada thingies.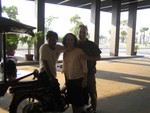 We also talked a lot more with Sitha and got to know him a little better. Like I said before, Sitha became our best mate in Cambodia. He's very quiet but good-hearted. And when he would come pick us up in the morning, he had the biggest smile on his face. Not to mention the fact that when he laughed it was contagious. He's a great, great guy that we still keep in contact over email. He told us to tell all our friends to go to Cambodia and he'll show you around. Consider this message delivered.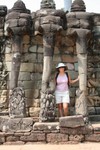 After our short break we walked around the rest of the Angkor Thom complex that housed Bayon. We saw the Terrace of the Leper Kings which had these great Elephant statues all along the walls, as well as the pyramid Phimeanakas which Brian climbed to the top of.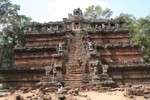 Legend has it that the golden tower crowned the temple and was inhabited by a serpent that would transform into a woman. The kings of Angkor were required to make love with the serpent every night, lest disaster befall him or the kingdom. Now you know why Brian climbed to the top.
Next we headed to Bantaey Srey, which was a one hour tuk-tuk ride outside of the main temple complex. The countryside along the way was quite beautiful even though the people were very, very poor. It was a stark contrast to Siem Reap which has many luxury resorts and hotels. But it was much more calm and peaceful, except for the terrible roads. In fact we saw some people repairing the roads. It's not even close to the CalTrans operations we're used to. These women and a few teenage boys were carrying rocks in hand-made baskets from a big rock pile to the area of the road that needed repair. Then they filled in the holes with dirt that they also carried in their baskets. There was one machine that would small the dirt and rocks together, but this was mostly achieved by the cars and tuk-tuks that drove down the road. And don't forget these people are working in extremely hot conditions, fully covered from head to toe to protect them from the sun. Makes you realize how easy our life is.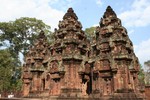 Anyway, back to Bantaey Srey. It was built in the late 10th century as a Hindu temple to the god Shiva.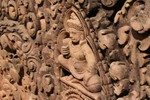 What makes this temple special is that it's made from pink sandstone and the walls are covered with the most beautiful, deep and intricate carvings of any Angkorian temple. It really was beautiful.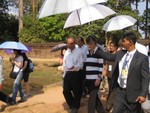 And on our way out we ran into the Prime Minister of Switzerland and her entourage!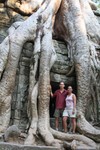 After a long sweaty day, we made one last temple visit before heading home. Ta Prohm was where Tomb Raider was filmed and many people know it from the pictures of the trees wrapped around the temple walls. It's only been partially cleared of the jungle and there are many trees still holding up the temple. It's a great example of what the temples looked like before they were restored.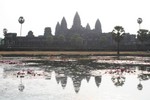 Our overall experience at Angkor was amazing. We saw probably only a third of what there is to see there. You really need a few more days to take everything in. It just blows my mind that there were these massive ancient civilizations that are just completely wiped out. We're lucky they left something behind.
There is a very sad reality about Angkor Wat however. It is the tourist attraction for all of Cambodia and hundreds of thousands of visitors tour the temples each year. The cost of admission is $20 per person per day. This may not be much, but when you compare this price to the cost of other tourist attractions which average around $3, $20 is a significant amount of money. Unfortunately, this money doesn't stay in the country. The site is managed by a Vietnamese Gas company, so that the huge profits are not benefiting the people who need it, and deserve it most. The only way the locals make money is selling food and souvenirs inside the temple complex. These people can be quite annoying and really take away from the ambiance of the complex. In fact, in a recent National Geographic Traveler article, they claimed that as world heritage site, Angkor's overall ranking amongst other world heritage sites is going down because of all of the vendors. But they have no other choice when the government isn't doing anything to help them. Another Cambodian tragedy.