Authored By Brian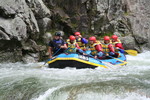 The last three days have been absolute nuts. I try to let the pictures do the talking but I have diarrhea of the typing-hands – sorry! After the weather didn't cooperate on Sunday for the Tongariro Crossing, we booked ourselves onto a white water rafting trip on the Wairoa river. This is a special opportunity because the river only exists 26 days a year. The rest of the time the water is diverted for hydroelectric power but the government agreed to periodically turn on the spigot so kayakers and rafters could do their thing. It's exciting because it's rated Grade 4 and 5 rapids. So what if we've never been rafting?
Our guides told us later that when things go right "it seems easy until the second that it becomes hard". For class 4 and 5, things certainly seemed easy with no fatalities and only 4 serious injuries in our group. Haha, just kidding. We had an intense ride starting with "Fluffy Bunny", crashing through "Mother's Nightmare", holding-on-and-getting-down in the "Roller Coaster" and launching off a 4m (13ft) waterfall. There were some other rapids and a spot where we climbed up some rocks to watch other rafters before jumping off into the cold water that made this a great day.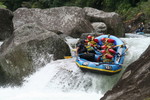 Awesomely enough my eyes are closed in almost every picture or I look like I'm about to pee myself. The 3 Israeli guys in our boat (Kobe, Eli and Ezi) were much better at ignoring their paddling duties and hamming it up for the camera. Big props to those guys.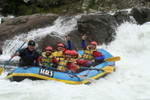 This was the most exciting thing we had done in NZ by far – a real rush and a cool sense of teamwork. Some of the guides had worked on the Grand Canyon before and all of them were telling us to go back and raft the Tuollome River in California which is supposed to be "wicked".
We left our group and rolled North to Rotorua to check out volcano country. First stop was "Hot Beach" where scalding water comes out of the ground at the shores of Lake Rotorua creating little spots of bathtub-like water for soaking. Along with that came a faint sulphur smell… not too bad.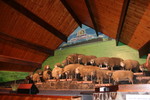 The weather has been back to being pathetic. Rain, rain and more rain. But there's little you can do to ruin some indoor fun so we headed to the Agrodome. They have a farm show with sheep, lamb feeding, cow milking and some other sillyness. They also shear a lamb on stage in about 90 seconds and then throw the stinky wool into the crowd. Thanks! We keep putting ourselves in situations that require us to check all those boxes on customs cards: "Have you been around livestock in the past 30 days: YES".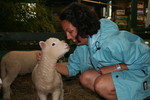 The farm show was actually pretty sweet. They bring out 19 different kinds of sheep and line them up on this giant podium, announcing what they use each sheep for and its particular qualities. The Merino sheep is at the top of the heap. Then come out some dogs. They have one dog called a "strongeye" who never barks but can make animals move around just by looking at them (with, wait for it, his eye). And then they have another type of dog that doesn't do anything but bark but this one also jumps from the back of one sheep to another in the air! And then it will land on one and ride it like a horse! I would think most sheep would poop instantly when this happens but these show sheep stand there perfectly calm while these wild hounds run around the stage jumping and barking and jumping and barking.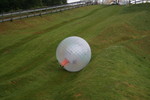 All jazzed up, we exited the Agrodome (which is not even a dome – what a rip off) and crossed the street to Zorbing. Zorbing is putting yourself in a giant inflatable ball and rolling down hill. You can either strap yourself in rolling end over end over end or you can put some water inside and slide around. You have to superman-style jump into a little porthole in the side to get started.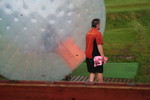 Jennifer and I did a tandem water zorb for our first go and from my very first step forward where I fell on my ass until we came to a stop dying of laughter at the bottom, it seemed like the longest 30 seconds of my life. Jennifer couldn't even catch her breath she thought it was so funny. They unzipped the porthole and we slid out like the day we were born except with a lot less effort and a lot more water.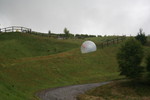 I felt mildly nauseas after the first one but we had already purchased second "solo" runs each so we went back up the hill for another dose. This time we each chose to do the "zig-zag" course which had about 4 turns and 4 times the nausea-inducing motion. I had to take an hour nap afterwards to feel better making this the first time I wanted to puke in Rotorua.
After some back and forth in town, we decided to come back in the morning and check on some river sledging which ultimately didn't work out and Jennifer wanted to drive by the Polynesian Spa that Conde Nast ranked as a world top 10 spa. They have mud baths and all kinds of thermal-related spa stuff but when we opened the van door to take a look, the stench of rotten eggs burned our nostrils and stained our taste buds as it coated our mouths. Someone told us it's not really sulphur you smell but some other related gas. It doesn't matter. This time I think I threw up a little bit in my mouth. Gross. Make that the second time in Rotorua.
Thankfully we ditched Stinky Town and headed to Waitomo where they have glowworm caves. It rained mercilessly on us en route. I had to pull over and stop once because high-speed windshield wipers weren't cutting it. It reminded me of racing in the rain at Infineon Raceway where we were getting hydroplaning wheel spin in a straight line.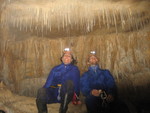 While in Rotorua, we saw a brochure for a company called Absolute Adventure which ran a caving tour in Waitomo. Some of the glow worm stuff here is like the Pirates of the Carribean ride in Disneyland where you're sitting on a boat with a bunch of other ticket-holding schmucks looking at a domesticated version of some wild environment. Absolute Adventure, on the other hand, pledged an off-the-beaten-track all-day spelunking tour in their private cave system. It's a combination of scrambling, rappelling, climbing, ducking, wading and – above all else – gawking.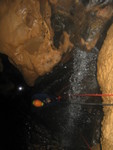 If you've ever been into a cavern (like Shasta Caverns when we went house boating), you have seen stalagmites, stalactites, cave flows, funny shapes and columns from a concrete path with handrails. On our tour we were climbing these things. Our heads were inches from thousand year old stalactites and straw formations that hung like meter-long icicles. It was just the two of us and our guide, a kiwi named Tim, 150m (450ft!) underground with head lamps, rock climbing harnesses and overalls.
Absolutely nuts! Look at these pictures… we spent 4 hours underground, first traversing a high passage near the top of the cave, usually above the river, before we rappelled down an underground waterfall getting soaking wet in the process!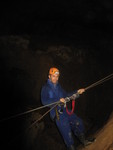 I can't even imagine lawyers agreeing to something like this in the states. For about a quarter of the way in, we were in front of our guide, kind of picking our way through and choosing where to go. There was more or less a route but we got to select how to go about. Some of it was pretty hard. We were often connected to safety lines (traversing) and used ropes to climb up and down ledges and chutes, getting onto our hands and knees when necessary.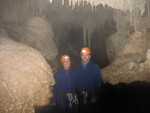 After a break, the real challenge began and Tim basically said: follow the river upstream until you find daylight. He was within shouting distance watching from the shadows with his headlamp off but Jennifer and I were on our own picking our way up the river, climbing over the sections we couldn't duck under and deciding whether or not areas were passable. Tim would pop back in occasionally when we got to a climbing section to supervise but he wasn't giving us much advice, even when we asked!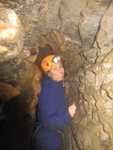 You can see how narrow some of these areas are – and how convoluted some of the passageways could be! I asked about chubby customers and Tim said they just had to be "keen". Something like that… I barely made it through.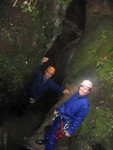 After water up to our chests and a couple of really challenging waterfalls climbs, we saw the daylight and had arrived back at ground level to the Spartan base camp for a hot shower and a change of clothes. We hit a holiday park for some hot tub action and we're both sitting here in Oprah's belly nursing our various nicks, cuts and bruises and taking some advil to ward off the sore muscles we'll surely have tomorrow.
We spent $175 NZD each and for me, it is hands down the coolest thing we've done so far. I have perma-grin right now. I really feel like we accomplished something and it was rewarding for us to work together. If the sea kayaks in Milford are "divorce boats" then caving must be something like renewing your vows.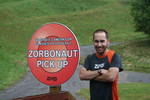 As you can see, I have not been shaving. This is after 18 days. Should I keep it or shave it?
Vote below in the comments: