Authored By Brian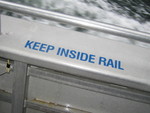 On a map, the drive from Christchurch to Queenstown looks really far. It's from one side of the country to the other but that's California thinking. If you've ever rented a car ("hired" a car) in Europe and crossed three countries in an afternoon or driven across the Eastern seaboard and lost track of what state you're in, New Zealand is similar.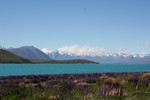 It was an incredibly scenic 3.5 hour drive over hill and through dale. The countryside is a mix of Yosemite's raw nature, the impressive Colorado Rockies and the rugged greenery of Lake Tahoe all rolled into one. The difference between those stateside spots and New Zealand is the absence of boring stretches of I-80 or I-5 to balance out the "woops-we-almost-drove-off-a-cliff-I-was-staring-at-that-thing-over-there" countryside we're piloting through. Added to driving from the right seat on narrow and windy country roads with gusty winds and, in racer-speak, we've "dropped a couple of wheels at the exit" once or twice. Jennifer loves this. And told me so. In a loud voice.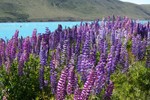 We stopped at Lake Tekapo along State Highway 1, a glacially-fed lake that glows an almost neon turquoise. The pictures can't really do it justice as it looks like strange lighting but the heavy glaciers grind rock into an ultra-fine powder that stays suspended in water so this lake, even up close and at the shore, has an eerie bright blue. As we rolled up to the parking lot, we passed this small church where a wedding was taking place right on the lakeside. Other than the remote location it was one sweet photo op for a newlywed couple.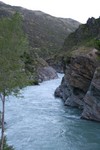 The next real stop was in the Kawaru Gorge at the original commercial bungy jump bridge run by AJ Hackett. I'm a little bit afraid of heights so I'm trying to convince myself that I should bungee jump. We went out on the patio to watch people jump – the strap-in procedure and jump was done to Guns 'n Roses Paradise City and November Rain kicked in after they made the leap. It was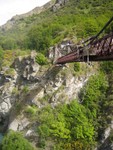 bloody freezing… the wind was blowing and it was cold and these people were jumping in a t-shirt and jeans and getting dunked to their waist in the river below. The river fed by snow pack. Mmmmm… toasty. It doesn't look that scary but it looks cold, which is worse than being scared shitless.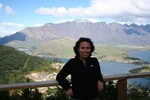 Now we're in Queenstown which is the adventure capital of New Zealand, if not the world. You can do just about anything here that involves land, water or sky and as much as Kiwis love kauri trees, they like making outrageous claims just as much like first to do such-and-such or most experienced in such-and-such or my favorite is "100% Safety Record". Actually, my real favorite is the skyline gondola's claim:
Reputed to be the steepest Gondola track in the Southern Hemisphere
Damn, yo!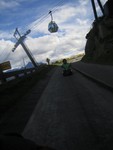 So here's what you can do in Queenstown: bungee jump, skydive, paraglide, hang glide, rock climb, mountain bike, heli-bike, heli-ski, heli-tour, airplane tour, ride horses, ride a jetboat on a river, ride a hot air balloon, hike a glacier, hike a 3 or 4-day "great walk", tour via bus, tour via car, tour via 4WD, tour via quad, tour via motorcycle, tour via double decker bus, tour wineries, tour Lord of the Ring film locations, tour Paradise (the city, that is), luge down a steep mountain, launch in a bungie-swing off a cliffside, shoot guns, ride a cruise boat, play golf, fly in a Red Bull sponsored acrobatic bi-plane over Queenstown, fly in a an ex-Soviet MIG fighter jet, fly some strange jet powered thing on a wire in circles at 100mph, go canyoning, go river boarding, go river kayaking, go sea kayaking, go white water rafting, scuba dive, and that's about it.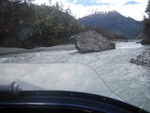 You can do all of that within about 30 minutes of Queenstown. The local booking agents can even arrange combos where you bungee-raft-dive or swing-raft-jet boat or heli-gondola-bungee or… you get the idea. If you're not adventurous, the chance of accidentally walking into an adventure sport makes Queenstown a poor destination.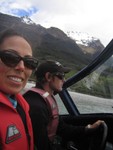 The second half of our ride was a nature walk in a Beech forest and a couple of Lord of the Rings location stops. We also drove through Paradise, in case you were looking for it. I can provide Latitude/Longitude if you'd like to visit.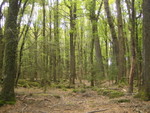 On the nature walk, we learned how the Europeans introduced Stoats (a weasel-like predator) and rabbits which have made 100 species of birds extinct in the past 400 years. Until these introductions, there were no land-based predators which made New Zealand something of a Garden of Eden for other species. Even today there is nothing that can kill you – no deadly snakes, spiders, bears, etc. God knows death by bear is common elsewhere.
New Zealand is the most environmentally-conscious country I've visited so far; the locals are all very concerned about preserving the land and this attitude encompasses everything from the public signage all the way to the "damn, I wish I could get a napkin in this place!" approach to conservation and recycling. It's incredibly refreshing and frankly, it gives me some hope about our future in dealing with complex issues like global warming. Inconvenient Truth is playing in movie theatres here currently and it's stirring some debate about how to move forward. I'm looking at you George W. *glare*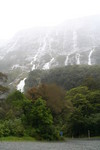 In the afternoon we hopped into our van and drove 3.5 hours to Milford Sound (really a fiord) which people call one of the natural wonders of the world. It's a deeply dug glacial valley that receives as much as 21 feet of rain per year. This constant rainfall creates a permanent layer of acidic freshwater that floats on top of the seawater and blocks out most light. This creates an unusual environment where just 20 feet under the surface, there are conditions similar to the deep ocean. This is one of the only places in the world where black coral and other unusual marine species inhabit these very shallow depths.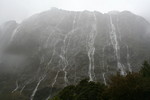 Our booking was for a sea kayak of Milford Sound the next morning but as we rolled towards the valley, the rain was starting to pick up slowly and by the time we crossed the (incredibly scary and 1800-ish) Homer Tunnel, the rain was coming down steady. We parked at the harbor and stayed the night. It was uneventful other than Jennifer being scared by a weird, hopping, crow-like bird in the parking lot when she went to the bathroom. She had to call my name and have my shoosh it away from our van. More on this little critter later.
The next day was atrocious. The Fiordland Wilderness Kayak guys showed up and said they needed to check the weather so we stood around for awhile until they cancelled the kayaking and instead offered to book us onto an early cruise. We were all secretly relieved. Particularly when we were on the small 60-person cruise boat and saw another kayak group out on the water in 3 foot whitecap swells and sideways rain. The boat ride was pretty incredible… we saw a seal, a rare penguin and about 1000 waterfalls.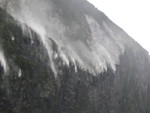 By the time we were halfway down the sound, the swells were as big as 6 feet and the waterfalls were being blown back up the mountain! The pictures here look as though these waterfalls are just starting to form but in reality, the water is going back up due to the wind. Totally unreal.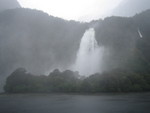 Most of the south island has a rocky, volcanic ground with relatively little top soil so water very quickly runs through the top soil and into streams, rivers, and eventually the sea. Not only do these waterfalls sprout up and disappear within hours, the entire NZ water system has very quick rises and falls in water level. Our jet boat guide in Queenstown said that there are frequently times when the path they take in the morning up the river is no longer available to them or has shifted by the time they run in the afternoon.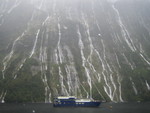 Neither Jennifer nor I threw up, which we considered a small victory, as we ate our pre-purchased lunch and drove our campervan back to Queenstown. On the way out of Milford Sound, we stopped at the final vista point before re-entering the tunnel and saw a parrot sitting on the side view mirror of another car eating crackers out of the window. Always a sucker for a wildlife close-up, I offered it the same and our parrot friend came up close and personal for a bite.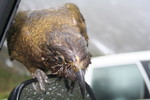 When we saw him take to the ground to recover a dropped cracker, we realized that THIS was the crow-like hopping bird that was taunting Jennifer in the middle of the night. As I would learn later, this is the famously mischievous Kea, New Zealand's native mountain Parrot. There are signs just about everywhere that say not to feed the little bastards but I didn't know what it was so there is a Kea somewhere with a handful of wheat crackers in his stomach in exchange for this photo shoot.
Slowly but surely, we crossed the tunnel and endured another 4 hours of rainy driving to make it back to Queenstown. We were due to start the Routeburn track the next morning; a 3-day hike over 33km of rugged New Zealand woods. It's considered one of the "Great Walks" so it isn't supposed to be too hard but we would be bunking in one of the 900+ backcountry huts each night along the path breaking up the "tramp" into manageable pieces.
After raining some 36 hours straight, the next morning we found the Department of Conservation had closed the Routeburn track due to new snow and our booking had been cancelled. "This is very unusual", they tell us. We were starting to see a theme.
With no guarantees, we rebooked for 3 days later hoping the weather would turn around and, based on the recommendation of a couple we met on the Milford cruise, we headed up to Wanaka. Wanaka is a small lakeside town about an hour from Queenstown situated at the base of some mountains. It's much more laid back than Q-tip and has a bit of a Lake Tahoe vibe to it. We treated ourselves to the best eats we've had in NZ so far at a brewhouse right across from the water.
In other news, Jennifer and I are working on how to be in close quarters 24/7 and still like each other. The constant companionship is great but it can also lead to undesirable routine. It takes more than just stunning scenery and vacation to make a relationship work well.