Authored By Jennifer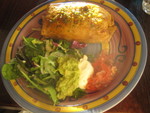 Obviously Kiwis don't celebrate Thanksgiving, and they rarely eat Turkey, so no traditional Thanksgiving meal for us. Instead, we "splurged" on Mexican food. In any other country, buying Mexican food is far from splurging. In fact when Jesse was unemployed, he consistently ate burritos at Taqueria Cancun because they were only $3. However, in NZ, Mexican food is considered luxury.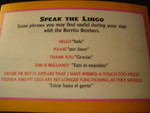 We ate at the Flying Burrito Brothers, mostly because the maitr'd offered me a free margarita, in downtown Christchurch. The first thing we noticed about the menu was that there was a glossary of terms.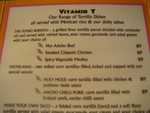 For instance, in case you didn't know what nachos were, you could peruse the glossary. Also as a courtesy for patrons, they included some Spanish lingo. We were absolutely shocked at the prices, but sucked it up anyway. A burrito, tostada, chips and guacamole, and one margarita cost $70 NZD.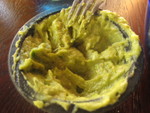 That's about $55 USD. Can you believe that? Apparently the chef imports all the ingredients from Mexico, and makes the salsa and guacamole fresh each day. But it wouldn't stand a chance against my guacamole.