Authored By Brian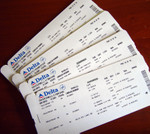 Now it's really real. We have the tickets. They are huge. As thick as an owner's manual for some complicated electronics. Do we need to insure these things? They seem easily lose-able.
Because the ticket has so many legs, I had to go to San Francisco International to pick it up. I had to cheat and ride my motorcycle around the parking gate because it doesn't weigh enough to trigger the automated parking ticket dispenser. I caught some poor Delta employee named Richard about 20 minutes before his shift ended. Two hours later I left with my tickets in hand and a smile; although I may not always like Delta the airline, the people are pretty darn good. He said this was the biggest ticket he had ever issued.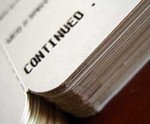 Only 10 days since we confirmed the itinerary, there are already three changes. Two flights changed times ever so slightly which doesn't impact our booking but the flight from Seoul to Mumbai was cancelled so we're leaving Bangkok one day earlier and laying over in Seoul for 2 and a half days. I'm looking forward to that instead of just 24 hours there to check out South Korea and see what's happening, if not briefly.
INSERT_YAHOO_MAP
Also, I'm going to test out a new Wordpress plugin I installed today that should auto-insert a Yahoo! map of where I was. I figure this will be a neat addition when we're on the road.