Authored By Brian
My first introduction to Jerry was my junior year of college and it involved falling backwards over a keg before I called an end to the night and headed home. Knowing Jerry is kind of like that – so much fun that it usually hurts the next morning.
Our evening mostly began with a cab right from Jerry's apartment at 73rd and West End on the upper West side to the lower East side. We brought along 24oz cans of Rock Star to get our energy levels up but our cabbie was driving like a madman. You might as well have taken those cans and shaken them before drinking. After our Turkish cab driver finished yelling racial epithets at the other Turkish cab driver (now that's a New Yorker!), we bopped out of the cab about ready to explode from the carbination and caffiene.
Jerry made a bunch of gift bags for the people coming to his birthday party and our first job was to drop them off at the bar. After checking out the scene and having a beer or two, we walked around the block for dinner. We met up with my friend Annie and one of Jerry's friends and sat down to eat the biggest shrimp I've ever seen. These made jumbo shrimp look like toys. I honestly still don't believe they were shrimp but rather some bizarre mutation from the East river.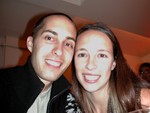 This is Annie. She and I went to the same high school but didn't know each other until we were in the same English class at college. We only see each other once or twice a year since she moved to the East coast for medical school but it's like we've never missed a beat and we always have a good time bringing our hometown sensibilities to whatever scene lay before us. She is one of my favorite people because of her good nature and great sense of humor.
Dinner was basically giant shrimp and red wine. Lots of red wine. We retreated from dinner back to the bar where the party was already underway. Jerry was arriving late to his own birthday party which he threw – incredibly fashionable.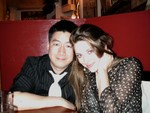 There were lots of good looking women dressed to kill per NYC law. Lots of people whom I have met through Jerry on my previous trips to New York came by and everyone had a great time. Jerry had one girl who he had his eye on and she accompanied us to an after-party at a local dive bar. We partied there until she started dancing on the table and we were asked to leave…
We didn't make it home until 4am and two hours later my alarm went off telling me to get up and get going – my Delta flight to SFO wasn't going to wait. I used Jerry's secret chinese car service again and was at the airport in no time, through security and into a coach seat to close my eyes. I'm glad I made it to the city to Celebrate with Jerry – he's a friend I'll have for life and he only turns 30 once.
Only 5 more hours until I am back in California!