Authored By Brian
October 12th is Spain's Fourth of July, the day they celebrate their independence. They do it in earnest with the holiday falling on a Tuesday, irrespective of packaging it into a three-day weekend. This allows them to "hacer un Puente" or, "make a bridge" and turn it into a four day weekend.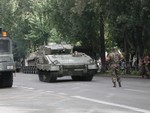 Part of the celebration features a variety of army and other military vehicles and planes flying overhead and marching down the Paseo de Castellana to Recoletos and onward. But starting just about 4 minutes ago jets have been flying overhead very closely. I was confused for a second thinking it might be the 12th, and if it was the 12th, I sure wasn't packed yet…
The apartment has been busy the last two days – a Spanish guy named Hector from Bilbao moved in on Wednesday and an American guy named Mike moved in yesterday. Hector is going to school for his MBA and Mike is here teaching English. He has a Spanish girlfriend Maria which I think is the real reason. I spoke with him quite a bit yesterday as we had dinner together at Kora Bora!, this cool little pizza and pasta place a couple blocks away. It was one of the best pizzas I've had in a long time and I noticed that on the menu they have burritos… burritos estilo mexicano… I know it's only a week until I taste the grand luxury of a $5 Cancun super burrito "con todo", but… maybe… I might just have to try it… it's my duty, right?
My cell phone finally showed up yesterday as well. I went and picked it up at the post office and charged it only to find it won't work with a Telefonica Movistar SIM. I'm going to have to try something else today in order to get it to work. The problem is I can't even use it as a Bluetooth handset for my computer because, without the SIM, it won't function at all. It's pretty svelte though, and the charger is quite a bit smaller than my old Startac. In fact everything is quite a bit smaller about this phone and it's light. I think it's going to be hard to keep it clean because of the big screen. My biggest concern actually is about carrying it in my pocket and scratching it up alongside keys or coins. It's going to take some adjustment to remember to not just "throw it in there". Then again, maybe I won't get it working period so it might not be an issue?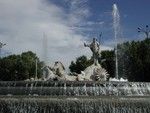 Also at the post office I tried to send my grandparents their presents that I bought waaaaay back in London and Santorini. It's a small shoebox that weighs a couple of pounds. They wanted 35€ to send it by air mail! And by boat, which would take 2 months, they still wanted 23€! I'm not sure what I'm going to do about that but I suspect bending over will be involved. I also need to ship home some clothes to make room in my suitcase so I might spend a significant amount of time looking at the ground.
I feel like there is a lot to do before I leave, especially since I'm supposed to go to Sevilla this weekend with Gabriela for three days. We're going to take the high-speed AVE train which only takes 2.5 hours from Madrid to Sevilla. By car it's around 6 hours. Riding the Eurostar from London to Paris was really neat so I'm hoping it pans out. If Gabriela can't take Monday off, we're going to go to Valencia instead by car. Gotta pack it in…