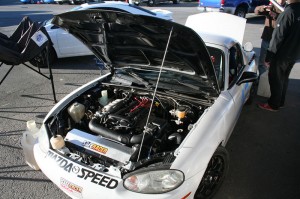 I guess I posted this everywhere but my own site – four weeks ago SCCA San Francisco Region visited Mazda Raceway Laguna Seca for rounds 3 and 4 of the regional championship. We rolled the car out of the trailer, made some minor adjustments and put the car on pole ahead of 50 competitors for the first race of the weekend in qualifying on Friday. This was my first pole position and I proved it wasn't a fluke with a flag-to-flag victory, also my first, in the race on Saturday! I nearly lost the lead on the start but held it through the first turn and then focused on driving clean laps while maintaining a comfortable lead to win the race by 10 seconds. I was so excited I forgot to pick up my checkered flag and take my victory lap! I went straight to impound where we were weighed and our fuel checked and the top three passed without issue.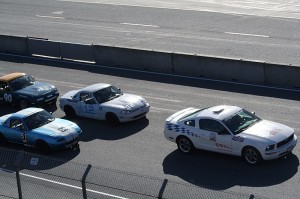 We tried a series of suspension adjustments running in a second group to see if we could make the car faster but we wound up close to where we started. Qualifying for the second race again ran half of the cars on track in order to improve the odds of getting a good lap in. We were up in the first half and I had some issues with catching traffic at inopportune time but I was still on provisional pole when the second half of the group took the track. Up until the last sixty seconds of the session I still was P1 until Darin Posley knocked me down a notch and that's how we started.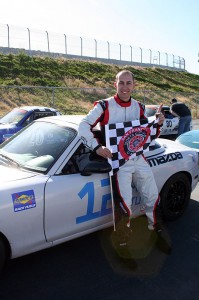 We struggled with making a decision on tires for the actual race. It was a slightly longer race and the tires we ran for the first race were fast but we weren't sure if they would last the race distance. Ultimately we put slightly more treaded tires on the car to make sure we could maintain pace throughout the race. It was the right call but this set wasn't quite as fast. The outside at Laguna is a tough place to start because cars stack up entering T2 and train through the inside line. I put two wheels off at the exit in the dirt and by turn four I was in 4th place. One of the cars ahead of me was a sealed spec miata and let me by shortly after since we weren't directly racing each other. Tommy Olivier was leading the race and in a role reversal from the day before, I was pressuring Darin Posley allowing Tommy to build a gap. I was handicapped slightly by the tires but tried a number of moves on Darin over the race distance. Ultimately he held me off and I finished 3rd for a great weekend.
The checkered flag is hanging over my desk and we've uncorked a little more power in the car since the last race. Next weekend we're back at Laguna Seca for a rare weekend without tough Laguna sound restrictions and a test day. We have some ideas based on our tire wear to try and it will be a very competitive weekend with drivers coming from Oregon and Washington and Southern California. I'm doing final prep today and we should see where we're at in sorting the car come Friday.
Regional #3 Qualifying (1st OA, 1st in SMT)
Regional #3 Race (1st OA, 1st in SMT, Fast lap of race)
Regional #4 Qualifying (2nd OA, 2nd in SMT)
Regional #4 Race (3rd OA, 3rd in SMT)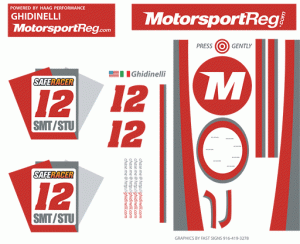 Attached is a flattened sneak peek of the new livery that Fast Signs of Natoma, run by racer Ed Koop, is printing for me. It should be on the car in time for this week helping to promote the people that make my racing possible including Haag Performance and SafeRacer. Ed knows how to work with racers so if you're looking for vinyl give him a call at 916.419.3278.